Today marks the first day of National Suicide Prevention month!
Please take the time to educate yourself on this topic!
IT IS IMPORTANT!
So many lives are touched by suicide.
Suicide is a heavily stigmatized topic. Many people deal with suicidal thoughts and/or behaviors IN SILENCE due to the stigma. We need change.
If you are struggling: you are worthy of help, even if you don't believe it.
If you see someone struggling: offer help.
If you have a history of suicidality: make a safety/crisis plan.
Have a beautiful & safe September, lovely people!
I added a TON of linked resources below to check out! If you think of one which I should add, please let me know in the comments!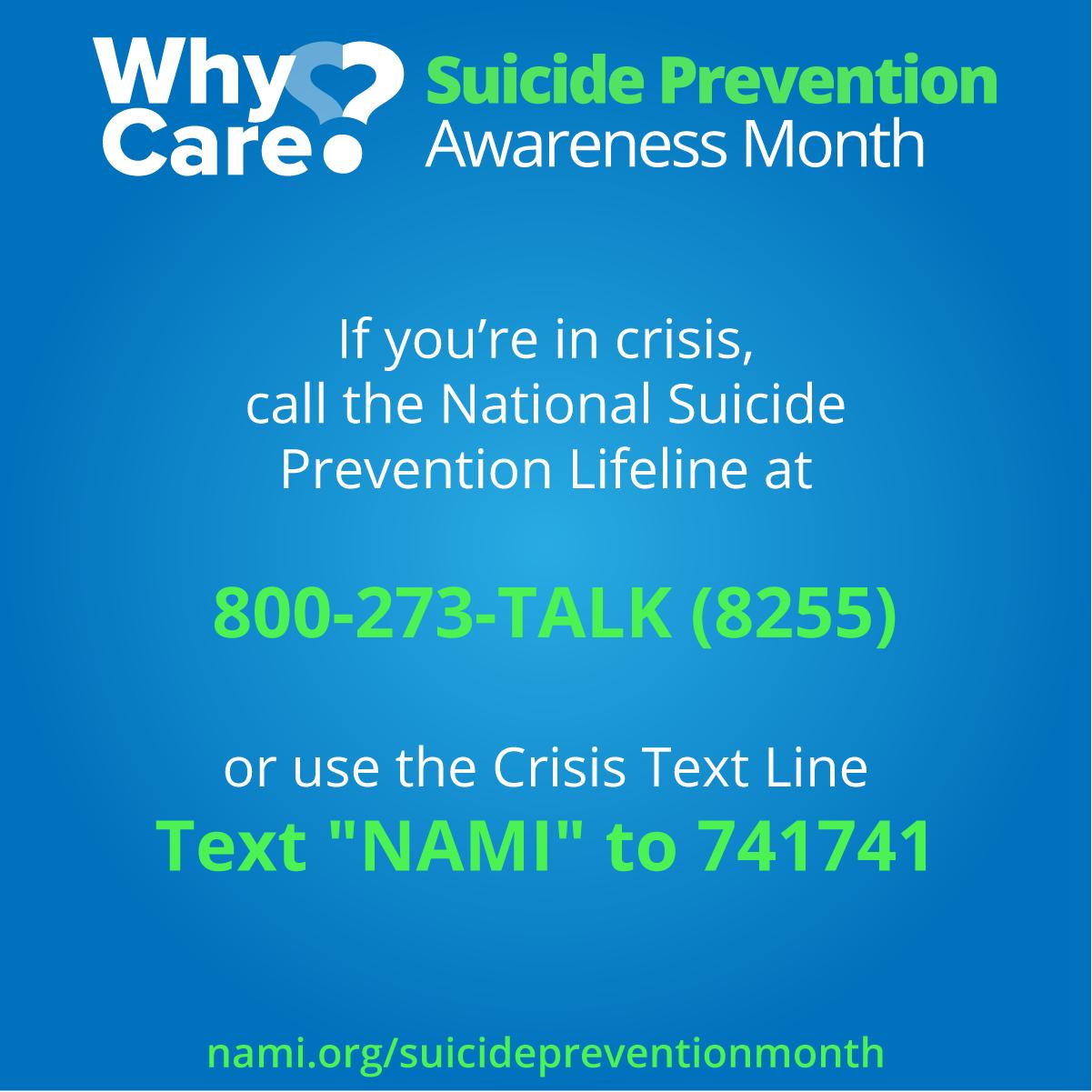 If You Know Someone in Crisis: Call the toll-free National Suicide Prevention Lifeline (NSPL) at 1–800–273–TALK (8255), 24 hours a day, 7 days a week. The service is available to everyone. The deaf and hard of hearing can contact the Lifeline via TTY at 1–800–799–4889. All calls are confidential. Contact social media outlets directly if you are concerned about a friend's social media updates or dial 911 in an emergency. Learn more on the NSPL's website. The Crisis Text Line is another resource available 24 hours a day, 7 days a week. Text "HOME" to 741741.
Related Resources:
Seeking Help:
Lifeline: 1-800-273-TALK
If You Need Support Related to Suicide (AFSP)
The Basics:
Suicide FAQs (National Institute of Mental Health)
Warning Signs & Risk Factors (NAMI)
Suicide Statistics:
Suicide Statistics (American Foundation for Suicide Prevention's site)
Safety Plan:
How to Develop a Safety Plan to Manage a Suicidal Crisis (Dr. David Susman's Blog)
A Safety Plan in Action (Uncustomary Housewife Blog)
Photography, Stories, & Art:
Life Through This: Dese'Rae L. Stage (Series of Portraits & Stories of Suicide Attempt Survivors Across the US)
Faces of Fortitude: Mariangela Abeo (Portrait Project Sharing Faces of those Impacted by Suicide & Mental Illness)
TED Talks:
"Why we Choose Suicide" | Mark Henick | TEDxToronto
"Depression, the secret we share" | Andrew Solomon | TEDxMet
Books:
Memoirs:
"Reasons to Stay Alive" by Matt Haig
"Boy Meets Depression: Or Life Sucks and Then You Live" by Kevin Breel
Textbook(ish):
"Night Falls Fast: Understanding Suicide" By Kay Redfield Jamison
List of Suicide-related Novels:
"Empathy Reading: the Best Novels About Suicide" Article (Penguin Random House)