Mental Health Awareness Month is coming to an end, but that doesn't mean that the discussion & learning about mental health should end!
Want to learn more about mental health? Here are some online courses you can take for free!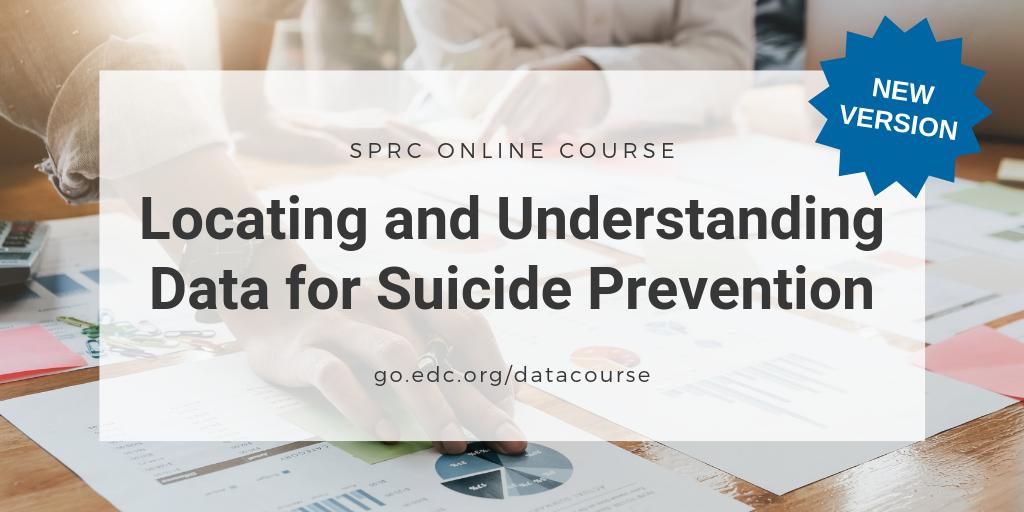 Suicide Prevention Resource Center:
I came across the Suicide Prevention Resource Center's courses on Twitter. There are 4 courses available:
Counseling on Access to Lethal Means
Locating and Understanding Data for Suicide Prevention
A Strategic Planning Approach to Suicide Prevention
Preventing Suicide in Emergency Department Patients
I took the second one listed above:
Course Description: Effectively preventing suicide requires an understanding of who is attempting and dying by suicide, where the problem is most severe, and under what circumstances attempts and suicide deaths occur. But how do you find the data you need to answer these questions and others? Locating and Understanding Data for Suicide Prevention presents a variety of data sources that are useful for finding information about suicide deaths, suicide attempts, and suicidal ideation. This course also explains key concepts that will help you better understand the data you find.
My thoughts: I liked how it highlighted a variety of data sources that are useful for finding information about suicide deaths, suicide attempts, and suicidal ideation. It listed the pros & cons of each, and even used case studies and mini quizzes to reinforce the concepts learned. It had a 15-question test at the end of the approximately 2 hour [self-paced] course. Earning 80% or higher earns you a certificate of completion for that course. I liked the length of it as well as the additional handouts provided. I think that many people in the field could find these courses helpful!
Course description: Learn to provide psychological first aid to people in an emergency by employing the RAPID model: Reflective listening, Assessment of needs, Prioritization, Intervention, and Disposition.
Utilizing the RAPID model, this specialized course provides perspectives on injuries and trauma that are beyond those physical in nature. The RAPID model is readily applicable to public health settings, the workplace, the military, faith-based organizations, mass disaster venues, and even the demands of more commonplace critical events, e.g., dealing with the psychological aftermath of accidents, robberies, suicide, homicide, or community violence. In addition, the RAPID model has been found effective in promoting personal and community resilience.
My thoughts: I like Coursera because it has such a wide variety of topics which can be explored! Although getting an official "course certificate" is not free, you can still view pretty much all of the course materials & videos for free, which I think is great.
I like this course because it included videos to illustrate interactions, such as what is "inappropriate" or unhelpful VS what is the correct response. I think it is a great introduction to psychological first aid. It could be a great chance for people to see if they are intersted in pursuing something along those lines as a potential career.
Course Description: Public Mental Health is the application of the principles of medicine and social science to prevent the occurrence of mental and behavioral disorders and to promote mental health of the population. This course illustrates the principles of public health applied to depressive disorder, including principles of epidemiology, transcultural psychiatry, health services research, and prevention.
My thoughts: I really liked the course material itself since I have a passion for studying mood disorders. I think that "public mental health" is a very interesting mix of fields! However, I did not like the peer review component of the class… but I understand that it is a logical grading approach for the assignments given in this type of course.
Course Description: Course participants can expect to learn about ADHD as a developmental disorder that begins early in childhood, and participants will also learn about evidence-based approaches for diagnosing ADHD. Following that, two evidence-based treatment approaches (the Daily Report Card and Parenting Strategies) will be introduced. Students will be able to identify the behaviors characteristic of ADHD, the components of a diagnosis, and evidence-based treatment procedures that can be used in the school or home.
My thoughts: I think that this course could be valuable for many people, including teachers, parents, and school faculty. It was interesting to learn about different evidence-based approaches, such as the Daily Report Card. It was a good introduction to this topic.
There are courses in several languages, which is really awesome! Many are self-paced, which makes them easier to fit into one's schedule. There are other sites than Coursera which also have such courses, such as edX (Psychology classes!). You can search by topic or subject! Explore & learn!
Have you found online, free mental health-related classes you like or found helpful? Please let me know!