Blogger Elizabeth Mosley-Banks of the "Uncustomary Housewife" blog tagged me in a holiday questions post! I'm a little late to responding (sorry!) but here it is:
Do you prefer giving or receiving gifts?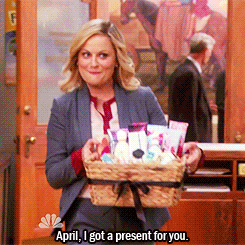 I like giving gifts. When I have the time, I like to get creative and personalize things so that it is super special. 🙂
Do you make and stick to New Year's resolutions?
Many people have the cliche New Year's resolutions to lose X lbs or stick to Y diet or give up Z, but mine are kind of different. One year I wrote a post about my resolutions, one of which was to not let mental health stigma bring me down. –> The Not-so-Cliche New Year's Post. Total Basic Girl Blogger Move. Goals I do NOT intend on letting go of within a week. Classic manic post with a lot of words/images but little actual content.
Have you ever made a snowman?
Yes, although I cannot take credit for this one!
Is your Christmas tree real or fake, and what theme do you prefer?
I have never had a real tree. I have a mini tree that is covered in fake snow that I absolutely love. It has a sort of natureish theme? I picked ornaments I thought looked cute!
Most memorable holiday moment?
I don't have a specific moment that comes up, but I did watch Les Miserables for the first time when it was in the movie theaters on Christmas. LOVED IT.
What holiday traditions are you looking forward to this year?
Christmas Eve dinner with the family is what we do every year. My sister and I make German Christmas cookies as well, a fun and delicious tradition.
What is the best Christmas present you have ever received?
One of my best friends from high school sent me a Christmas card this year that said she is moving back (from Canada to my state)… don't think it gets better than that!
What are your favorite holiday foods?
Bring on the cookies!
What is your favorite Christmas film?
I love the cartoon version of The Grinch. I also love Elf. Last night, though, I was watching the Christmas episodes of The Office with my parents.
What is your favorite thing about Christmas?
Family time
What would be your dream place to visit at Christmas time?
I live in eastern North Carolina, so waking up to a Hollywood classic "White Christmas" is impossible. I would like to go somewhere where it is a winter wonderland for Christmas morning!
Who do you spend Christmas with?
My parents & sister
When do you start getting excited about Christmas?
Definitely not when I start seeing trees (which are in stores as early as August!)… I'd say after Thanksgiving.
You have one Christmas wish- what will it be?
Have a Christmas with my family in Europe, which hasn't happened since I was in elementary school.
Merry Christmas, everyone!