When I was younger, I was OPTIMISTIC about my future.
I mean… REALLY FREAKING HAPPY 'BOUT IT.
Like… ECSTATIC TO BE AN ADULT & LIVE HAPPILY EVER AFTER. THE END.
BUT, life is NOT like that…
The struggle is not one evil queen or magical man.
The struggle is not fought once and then done with forever.
No.
THAT would be easy.
But, THAT is NOT REALITY.
Reality is that LIFE TAKES WORK.
A LOT OF WORK.
NOT LIKE 30 MINUTES OF INTENSE BATTLE TO ACHIEVE LIFE-LONG HAPPINESS. NO.
It takes work EVERY. SINGLE. DAY. to make happiness your reality.
Also, your prince MOST LIKELY is not just gonna pop out of nowhere and propose.
Relationships take work, too.
Just saying, dearest.
No matter how pampered or egocentric you are, the world does NOT in fact revolve around you.
Your happiness is not superior to the happiness of others,
so don't put others down to get what you want… that's not fair.
EARN what you want.
Use hard work to achieve your dreams.
YOU. CAN. DO. IT.
DON'T GIVE UP.
Got a frown? Turn it upside down. 😉
Focus on the positives, even when the negatives are overwhelming.
You've GOT this.
Take a break….
a nap…
hell, you deserve a vacation.
DESERVE IT.
So, do it.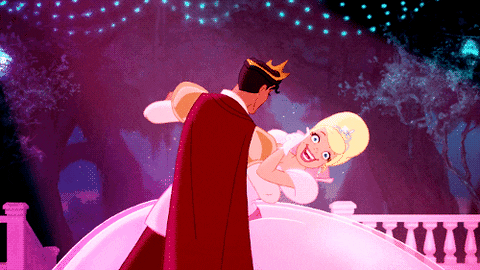 Don't be so fixated on others' definition of 'happily ever after'…
find what makes YOU happy
& strive toward that.
Don't 'sweat' the small stuff.
BREATHE.
RELAX.
BREATHE, AGAIN.
Life the life of your dreams.
So, yes, true happiness takes work…
but, that level of enthusiasm for each and every day is priceless.
So, brings those you love close to you. Cherish every day you have with them.
Geek out over the big things… and the little things. 😉
Work hard, but don't forget that you are only human
and deserve a BREAK.
Be true to yourself.
Be open.
Be honest.
Be brave.
Explore and enjoy life… it has so much to offer.
Never stop wishing or stop dreaming…
Realize what REALLY matters to you most,
and fight for it.
Every day, if you have to…
because, a "happily ever after" is worth fighting for.